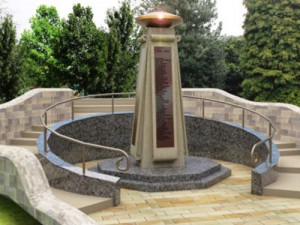 The artists impression on this page, published in Spring 2014 was the first sight of the Memorial for the people of Bramley, Rodley and Stanningley, although as will be seen from the section of this website that shows the large number of local Plaques and Rolls of Honour there was no shortage of remembering the fallen of this part of West Leeds.
Fred McNess VC is still remembered, not least due to his family and the centenary of him being awarded the Victoria Cross will be marked in September 2016. Others are laid to rest or remembered in local churches and churchyards.
The "Origins" section of this website details how the campaign for a War Memorial led to the building and how a number of local organisations and people developed and delivered the Memorial.
We appreciate the number of photos and information provided by relatives and families of the fallen, all of which are contained in our database, which is posted on this website.
The Friends of a War Memorial for Bramley Officers and Committee who oversee our activities are elected annually by public meeting and always welcome new members.
Future plans include adding additional names, primarily from Rodley and Stanningley; establishment of a Peace Garden and provision of a structure to display personal items and tributes.
Above all we pay tribute to the brave people of Bramley, Rodley and Stanningley and work to promote remembrance, respect and memory.
Privacy Statement: 2018:
We will always keep any information that you give us safe and secure.
We will only use this information for the purpose for which you gave it to us.
We will not share the information with any other organisation or individual unless required to do so by law or at your specific request to do so.
We will not use your personal details for marketing purposes or pass your information to any other organisation for them to use for marketing purposes.
You have the right to ask to see any information that we may be keeping about you.
You have the right to ask us to delete from our system any information that you have given us.